Cherish the Bliss of Youth: Keep a youthful look and enjoy your days.
A delight of teasing sour-sweet. Try out the taste of blossoming love.
The blazing tea color is derived from natural herbs. No extra flavoring essence, artificial coloring, caffeine, or sugar added. Enjoy it worry-free.
Azure, A Color of Intellectuality and Spirituality

The tea color of azure blue is the natural color of butterfly pea. Take a sip to pacify the restless soul and the disoriented mind. 
Mirroring the vast azure sky, with all the cloudy moods dispelled.
Drink to your heart's content
Sweetish in taste, this infusion exudes a soothing scent that restores the restless mind to serenity. A sip or two is all it takes to transmute your devilish gloominess into a heavenly reverie.
Restore your inner peace and fix your woes 
Specially recommended for those who seek to restore inner peace, sharpen concentration, or attain mental focus during formal meetings. 
Experience a tranquility that evokes a vast blue sea. And all your worries dissolve unwittingly.
Julia's Sweet Citrus mint from Yunlin, pea butterfly from Hualian, rose geranium from Puli, Nantou, and sweetleaf from Yunlin.
Handpicked natural ingredients for consumers' reassurance. Natural and healthy infusions made from selected floral and fragrant herbs from various plantations in Taiwan.
No additives, flavoring essence, or artificial coloring
Our products are 100% free of additives such as food coloring or flavoring essence.
The appealing, blazing colors of tea soup are all a result of blending natural ingredients.
Caffeine-Free and Low calorie
This product contains no caffeine. No more worries about drinking tea before bed.
Sugar Free and Low calorie. Indulge your thirst without worrying about falling out of shape.
Not getting bitter after long steeping. Explore the different textures of cold and hot brews.
Different from common tea products, our teas do not turn bitter or stale despite an all-day steeping. 
Cold-brew or hot-brew? Find out how the extraordinary texture of our infusions will defy your imagination.
When Lan Caihe meets BLUE ROSE

BLUE ROSE— symbolizing Lan Caihe, one of the Eight Immortals.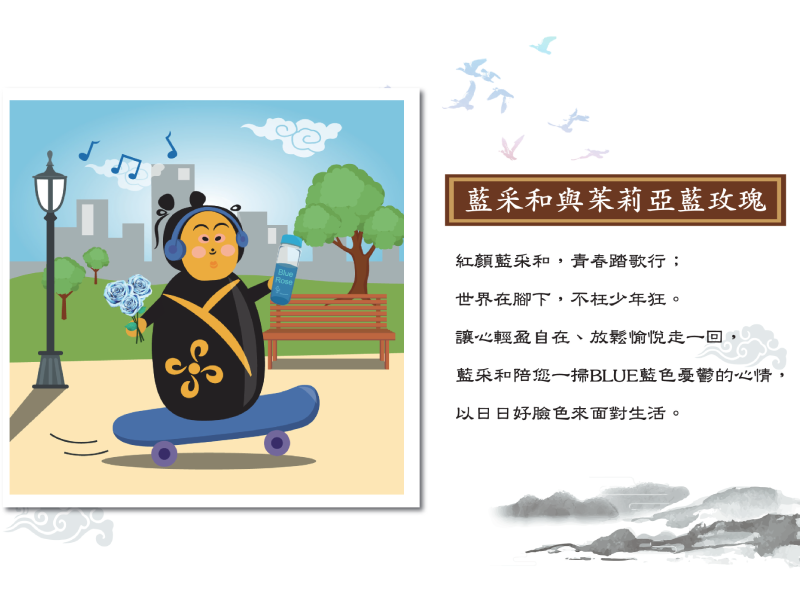 San Shen Ba Fu Fine Tea Collection
The three Gods and the eight Fortunes sit on the upper and lower levels respectively, so as to pass on the three blessings from Gods and to convey the metaphor of the Eight Trigrams and the Eight Deities. 
《Complete Design Concept》

Simple method:

Cold brewing: add 500ml of water with room temperature for 15 minutes, or cool down in refrigeration for 4-6 hours.
Hot steeping: pour 500ml of 85℃ water; steep for 3 minutes
Consult your healthcare practitioner prior to use: babies and toddlers;
if you are pregnant or breastfeeding, women with menstrual cycle, or if you are taking medicine.
Ingredients : Marigold,Butterfly Pea blossoms, Lemongrass and Stevia
Net Weight : 2g*10
Expiration date : 3 years
Origin: Taiwan
Storage: Store in a cool and dry place, avoid sunlight.